From the Executive/Artistic Director:
Amanda Selwyn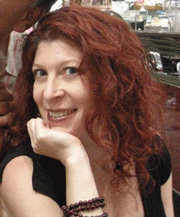 This year has been fueled with growth and change.  In this midst of the volatile political climate and endless media storm, a key question resonates in the day to day of Notes in Motion/Amanda Selwyn Dance Theatre. "What is a sacred space?"  What does it mean to feel safe, to trust, to be part of a community?  The answers reveal themselves in the creative process, in the classroom, on the stage, in the studio, in the board room, and in the outdoor gardens of Green Afternoon.  At its most basic, a sacred space is a place which invites the contemplation of divine mystery and encourages an attitude of spiritual openness. A sacred space is not necessarily where answers are grasped or understood.  It is where questions are asked, conversations occur, rituals are perpetuated, dances are performed, songs are sung, and silence is heard.
What turns an ordinary place into a sacred space? Creativity. Whether expressed in the improvisation of ecstatic dance or in mind-bending sculptures and installations, when we create, we transform our experience of environment. The arts transport us into the wilderness, evoking an intuitive and mystical knowledge of the sacredness of earth and of all life.
In 2017, we premiered Refuge at Mark Morris Dance Center to warm and enthusiastic audiences.  We are now working on developing a new work entitled Crossroads scheduled to premiere in June 2019. The piece explores forging into unchartered waters and that tumultuous process of self-discovery. Inspired by the work of Margritte and Escher, Selwyn will collaborate with scenic & costume designer, Anna-Alisa Belous to shape a surrealistic landscape that highlights these lingering moments at the crossroads, choosing one path or another, and how these moments steer the course of our lives.
We have recently brought on new Board members and new Teaching Artists into the organization and I am excited about the talent and passion they bring.  Every day, I am profoundly moved by the imagination, expressiveness, and soulfulness of my dancers, designers, teaching artists, administrators, board, and volunteers.  This community has blossomed over our 18 years in ways I never could have dreamed.
Company Updates:
Amanda Selwyn Dance Theatre recently presented our 18th Annual Performance Season with the World Premiere of Refuge at Mark Morris Dance Center. Check out photos of the Season performance here
In 2017-2018, Notes in Motion Outreach Dance Theatre has been honored to become a Community Partner with the Dizzy Feet Foundation. Our in-school dance education programs are thriving — we are serving 10 schools, over 2,500 students, and offering programs 190 days of the year! View photos of our recent Community Events in partnership with Credit Suisse at PS 63 Manhattan and PS 312 Brooklyn here.
We have recently onboarded 8 new fantastic members of our Board of Directors. The organization is growing leaps and bounds with your generous support.
Upcoming Events
Physique 57 Benefit Barre Class | August 17, 2018 | East Hampton, NY
Green Afternoon VI | August 18, 2018 | East Hampton, NY
Open Rehearsal | October 15, 2018 | The Ailey Studios, NYC
Crossroads World Premiere | June 13-15, 2019 | New York Live Arts, NYC