Arts Partner Since 2013. In-School Dance Residency Program serving 2nd-4th grade. Funding for Notes in Motion's partnership with PS 112 Bronx has been provided by City Council Member Andy King.
School Population Demographics: K-5, 370 students; 48% Black, 50% Hispanic, 2% White; 5% ELL; 98% economically disadvantaged; 26% special education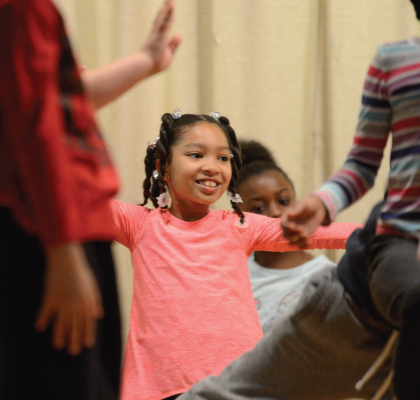 Self Expression Through Dance (Spring  2019) 1st & 3rd Grade (5-class groups;10-sessions) Teaching Artist: Luiza Karnas
During this residency, students learned, experienced, discussed, and embodied the Laban Movement Analysis categories of (1) Body (shapes and actions), (2) Space (levels, pathways, and formations), and (3) Dynamics (effort and time) through guided improvisations, collaborative work, and movement phrases. By the conclusion of the residency, students developed self-expression, spatial awareness, and the ability to convey feelings through movement.
"The program taught me that dance can be very relaxing and fun." — student, PS 112X

"All the students worked together and were encouraged to help each other out." — teacher, PS 112X

"She likes to dance and it has an excellent impact on her." — parent, PS 112X
Jazz Dance: A Community Groove (Winter/Spring 2018) 3rd Grade (50 students, 2-class groups; 14-sessions) Teaching Artist: Sarah Starkweather, Rosie Jo Neddy
Dance Residency (Winter/Spring 2017) 3rd Grade (50 students, 2-class groups; 14-sessions) Teaching Artist: Ashley McQueen
Thinking Like a Dancer (Winter/Spring 2016) 1st Grade (50 students, 2-class groups, 12-sessions) Teaching Artist: Aya Saotome
Dancing Communities and Dance Making (Winter 2013) 3rd Grade (45-students, 4-class groups, 5-sessions) Teaching Artists: Fatima Logan, Kayt MacMaster