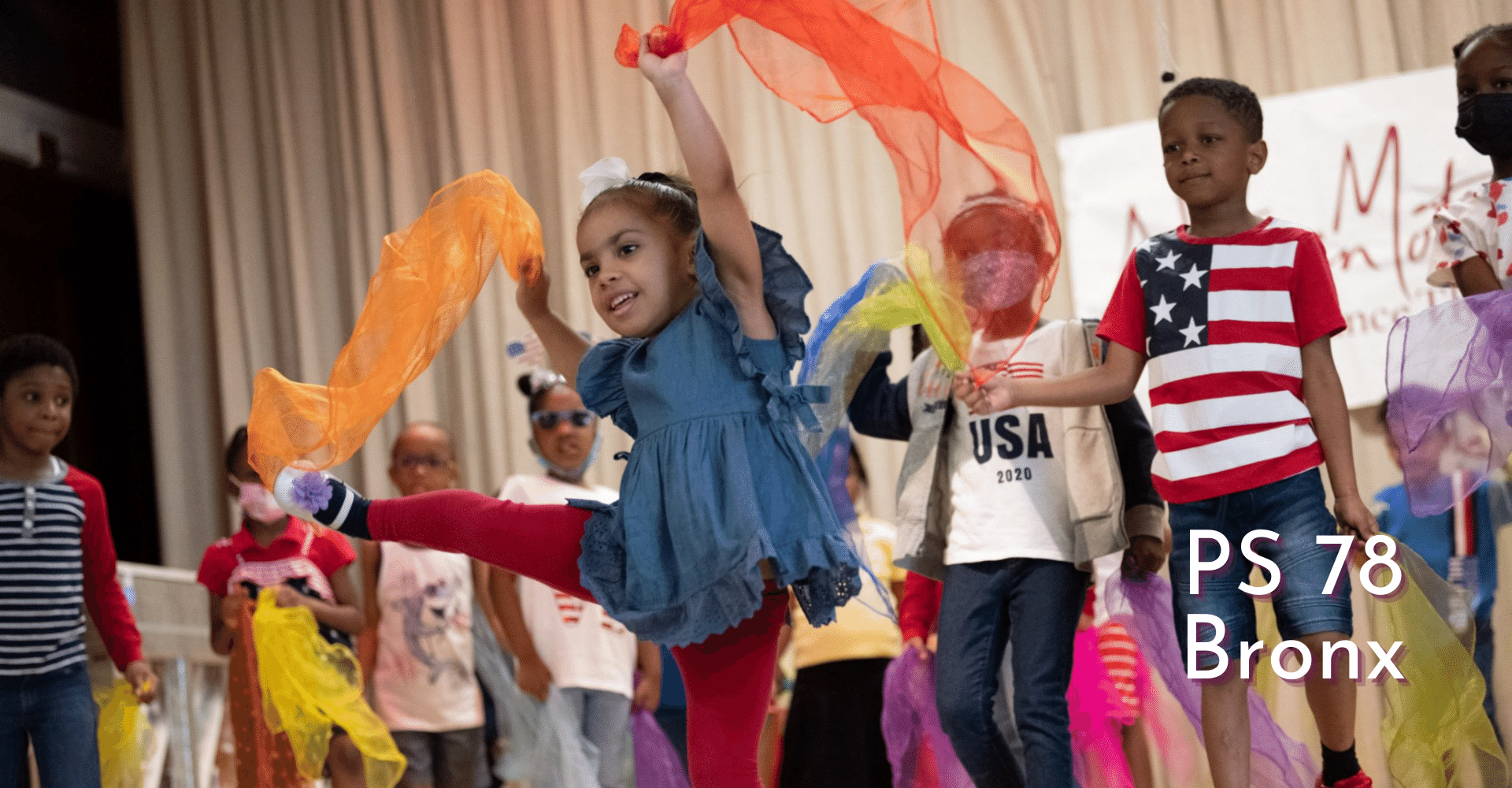 School Mission
: PS 78X, 
The Anne Hutchinson School is committed to working collaboratively with students, families and communities to build future leaders, and provide a safe and nurturing environment where all students meet and exceed high academic standards and personal goals.

School Website
Arts Partner Since 2008.
Grades PreK-5, 696-students; 26% Hispanic, 70% Black, 1% Asian, 2% White; 7% English Language Learners; 87% Economically Disadvantaged; 17% Special Education.
(2022-2023) PS 78X/Cross River Bank: What's In Your Wallet: Real Life Budgeting
---
(2022-2023) Express Yourself (6 class groups, 90 students; 12 sessions) Grades: K-5 | Teaching Artist: Sissy Bell
(2022-2023) Broadway in the Bronx (5 class groups, 75 students; 15 sessions) Grades: 1-5 | Teaching Artist: Rosie Jo Needy
---
(2021-2022) The Dance that Moves Us: Upbeat Jazz and Hip Hop Dance (5 class groups, 125 students; 50 sessions) Grades: 1-5 | Teaching Artist: Janet Cesarotti Photos  Video
---
(2021-2022)  Aligned with the Elements; Why Don't We Paint the Town (8 class groups, 200 students; 14 sessions) Grades: 2-5 | Teaching Artists: Bailey Randolph, Rosie Jo Neddy Photos Videos
---
(2020-2021) 
Shine Your Light on the World – Using Hip-Hop to Envision the Future

(4 class groups, 120 students; 15 sessions) Grades: 2-5 | Teaching Artist: Alex Gossen   Photos  Video
---
(2019-2020) Diaspora Traditions (6 class groups, 180 students; 35 sessions)  Grade: 2  | Teaching Artists: Fatima and David Alston  Photos
---
(2018-2019) Dance to Remember (6 class groups, 180 students; 35 sessions)  Grades: 2-3 | Teaching Artists: Sarah Landolfini, Luiza Karnas Photos Video
---
(2017-2018) What Can Dance Do For You? (7 class groups, 175 students; 22 sessions)  Grade: 2  | Teaching Artists: Annalisa Ledson, Leanna Grenan, Rosie Jo Neddy Photos   Video
---
(2016-2017) Family Event – Parent Engagement (1 class group, 125 students; 1 sessions) Grades: PreK-5  | Teaching Artist: Annalisa Ledson
---
(2016-2017) Family Event – Amanda Selwyn Dance Performance (1 class groups, 200 students; 1 sessions) Grades: PreK-5  Photos
---
(2015-2016) Family Engagement | Community Connections: The Space Between Us (4 class groups, 100 students; 3 sessions)  Grades: K-5 Teaching Artists: Fatima Alston, David Alston, Thomas Bond, Shiduan Campbell, Maira Duarte, Robert Moore, Emily Pacilio Photos Video
---
(2015-2016) Family Dance Event (4 class groups, 125 students; 1 sessions) Grades: K-5 & Parents  | Teaching Artists: Fatima and David Alston Video
---
(2015-2016) Dance and Literacy: Language of the Body, Art of the Words (6 class groups, 150 students; 20 sessions) Grades: 1  | Teaching Artists:  Annalisa Ledson, Emily Pacilio, Michelle Applebaum Photos Video
---
(2014-2015) Dance and Literacy (5 class groups, 125 students; 15 sessions) Grade: 2  | Teaching Artists:  Shiduan Campbell, Emily Pacilio Photos Video
---
(2014-2015) Making New Connections (4 class groups, 125 students; 9 sessions) Grades: k-2  | Teaching Artists: Fana Fraser, Torrey Harada Photos Video
---
(2013-2014) The Dancing Me and The Dancing Us (4 class groups, 100 students; 9 sessions) Grades: K-2  | Teaching Artists: Shara Harrad, Carrie Ellmore-Tallitch Photos Video
---
(2012-2013) A Dancer's Tool Kit (4 class groups, 100 students; 10 sessions) Grades: K-2  | Teaching Artists: Victoria Roberts-Wierzbowski, Catherine Coury Video
---
(2010-2011) Dance and Poetry (4 class groups, 100 students; 8 sessions) Grade: 4  | Teaching Artist: Jessica Danser
---
(2009-2010) Celebration Breakfast and Culminating Performance (7 class groups, 175 students; 1-session) Grade: 4  | Teaching Artists: Jessica Danser, Tami Mansfield
---
(2009-2010) Dance and Poetry (8 class groups, 200 students; 10 sessions) Grade: 4  | Teaching Artists: Jessica Danser, Tami Mansfield
---
(2009-2010) Thinking Like a Dancer (1 class groups, 50 students; 10 sessions) Grade: 3  | Teaching Artists: Jessica Danser, Tami Mansfield
---
(2008-2009) Thinking with Our Bodies (7 class groups, 175 students; 10 sessions) Grade: 2  | Teaching Artists: Jessica Danser, Tami Mansfield
---
(2008-2009) Making Dances and Talking with Our Bodies (11 class groups, 275 students; 10 sessions) Grades: 2-4  | Teaching Artists: Jessica Danser, Tami Mansfield