Arts Partner since 2018
We were thrilled to launch a dance continuum partnership with IS529 One World Middle School, Bronx, in collaboration with our long-standing school partner PS 112, Bronx. Over the course of a 10-week residency, students explored the fundamentals of traditional African Dance.
School Population Demographics:
K-12, 345 students; 55% Black, 34% Hispanic, 8% Asian/Indian, 3% White; 7% ELL; 82% economically disadvantaged; 25% special education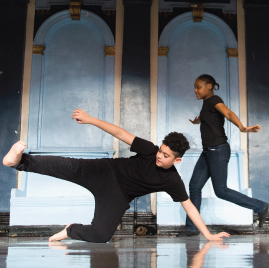 Young Choreographers: Reinventing Jazz and Modern Dance (Winter/Spring 2019) 6th Grade (4-class groups; 9-sessions) Teaching Artist: Ashley McQueen
Throughout this residency, students were taught basic technical skills from various Modern Dance techniques (such as Graham, Horton, and Limon) and Jazz Dance techniques (such as Luigi, Fosse and Dunham), as well as choreographic skills and an understanding of using improvisation as a tool for composition. Students also learned how to organize creative ideas into their own dances through choreographic tools, including level changes, qualitative shifts, body shapes, rhythm, locomotive pathways, and performance qualities.