Arts Partner Since 2008.  In-School Dance Residency and After-School Programs serving Pre-K – 5th Grade. Funding for Notes in Motion's ongoing arts partnership with PS 63 STAR Academy has been provided by a NYS Violence Prevention Grant and City Council Member Carlina Rivera and Rosie Mendez, Emeritus.
School Mission: PS 63 STAR Academy is an inclusive and diverse community where all learners' strengths are valued so that they are empowered to think critically about equity and access with the vision of becoming engaged change-makers and advocates for social justice. We implement culturally responsive practices and anti-racist curriculum.
School Population Demographics: 
PreK-5, 182 students; 65% Hispanic, 19% Black, 5% Asian, 10% White; 6% ELL; 85% economically disadvantaged; 35% special education
VIEW PS 63 STAR Academy Website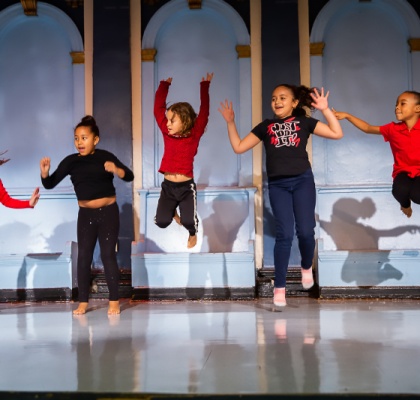 4th Grade In-School Dance Residency
Credit Suisse Volunteer Event PS 63 STAR Academy in Manhattan | Making a Difference with Dance: Integrated Arts Education Practice, Process, and Stewardship.
Notes in Motion Teaching Artists, volunteers from Credit Suisse, and 3rd and 4th grade students from PS 63 worked together in small groups to create an original dance performance that involved shape-making, collective sculpture, locomotor movement, and a unison dance phrase.
4th Grade Hip-Hop Dance Residency (Spring 2019)
(1-class group, 5-sessions) Teaching Artist: Sarah Landolfi
Students participated in a hip-hop dance residency where they learned basic concepts of movement and rhythm and practiced teamwork through dance.
"Dance taught me to believe in myself."— student, PS 63

"The students became more comfortable with taking risks and trying new things."— teacher, PS 63

"Good program to teach kids confidence."— parent, PS 63
Creative Movement & Ballet (Fall 2017 – Spring 2018) Grades K-2 (5 class groups, 10-sessions) Teaching Artists: AJ Sharp | Assistant Teaching Artist: Anna Zekan
Modern Moves, Jazz Grooves, & African Traditions (Fall 2017 – Spring 2018) Grades 3-5 (3-class groups, 20-sessions) Teaching Artists: Carlita Ector, Ashley McQueen | Assistant Teaching Artist: Manon Hallay
Dance Residency (Fall 2016 – Spring 2017) Grades K-5 (8-class groups, 10-sessions for grades K-2, 19-sessions for grades 3-4 and 18-sessions for 5th grade) Teaching Artist: Anna Reyes, Carlita Ector
PS 63 STAR Academy 2015-2016 Dance Residency (Fall 2015 – Spring 2016) Grades 1st – 5th (180 students, 6-class groups, 20-sessions) Teaching Artists: Jessica Danser with Carlita Ector, Emily Pacilio, Thomas Bond, and Robert Moore
Dance Styles, Choreography, and Technique (Fall 2014 – Spring 2015) Grades 1st-5th (100 students, 5-class groups, 20-sessions) Teaching Artist: Jessica Danser-Schwarz, Fatima Logan, Natalie MacKessy
Dance Styles, Choreography, and Technique (Fall 2013 – Spring 2014) Grades 1st-5th (100 students, 5-class groups, 20-sessions) Teaching Artists: Jessica Danser-Schwarz, Fatima Logan, and Kayt MacMaster
Choreography and Technique (Fall 2012 – Spring 2013) 1st – 5th Grade (100 students, 5-class groups, 20-sessions) Teaching Artists: Jessica Dancer-Schwarz, and Victoria Roberts-Wierzbowski
Choreography and Technique (Fall 2010 – Winter 2011) Grades 1st-5th (100 students, 5-class groups, 10-sessions) Teaching Artist: Jules Skloot, Megan Minturn
Dancing Around the World;  The Science of Dance: Exploring the Work of Merce Cunningham; Dance Map: Exploring the Work of Bill T. Jones.( Winter 2011) 3rd-5th Grade (80 students, 4-class groups, 10-sessions) Teaching Artists: Jules Skloot, Diane Tomasi
Thinking, Performing, Creating Like a Dancer (Fall 2010 – Winter 2011) 3rd-5th Grade (80 students, 4-class groups, 20-sessions) Teaching Artists: Jules Skloot, Diane Tomasi, Rebecca Pappas
Thinking Like a Dancer (Fall 2009) 3rd Grade (50 students, 2-class groups, 10-sessions) Teaching Artist: Jules Skloot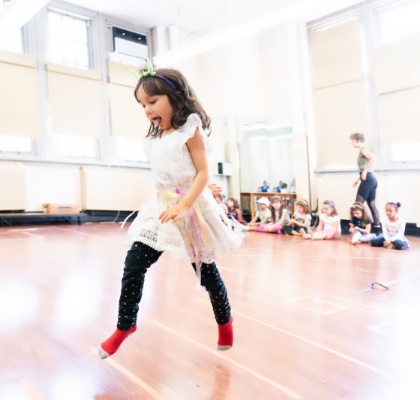 PreK-1st Grade After-School Program
PS 63 STAR Academy/The Neighborhood School : Pre-K After-School Program (Fall 2018 – Spring 2019)  Teaching Artists: Dot Armstrong, Rosetta Fair, Manon Hallay, Christianna Giuame, Leanna Grennan, Manon Hallay, Fatima Logan-Alston, Vera Pagnin, Luisa Righeto, Erke Roosen
PS 63 STAR Academy/The Neighborhood School : Pre-K-1st Grade After-School Program (Fall 2017 – Spring 2018)  Teaching Artists: Leads: Carlita Ector, Geneva Jenkins, AJ Sharp, Assistants: Rachel Schemenaur, Erke Rosen, & Leanna Grennan
PS 63 STAR Academy/The Neighborhood School : Pre-K After-School Program (Fall 2016 – Spring 2017)  Teaching Artists: AJ Sharp, Carlita Ector, Geneva Jenkins, Gina Borden, Manon Hallay, Rachel Schemenaur, Samsam Yung
PS 63 STAR Academy : Pre-K After-School Program (Fall 2015 – Spring 2016) Teaching Artists:Carlita Ector, Geneva Jenkins, Lonnie Stanton, Robert Moore, Aya Saotome, Thomas Bond, Gina Borden
PS 63 STAR Academy : Pre-K After-School Program (Fall 2014 – Spring 2015)  Teaching Artists: Shara Harad, Natalie MacKessy, Aya Saotome, Anne Marie Robson Smock, Lonnie Stanton, Carlita Victoria