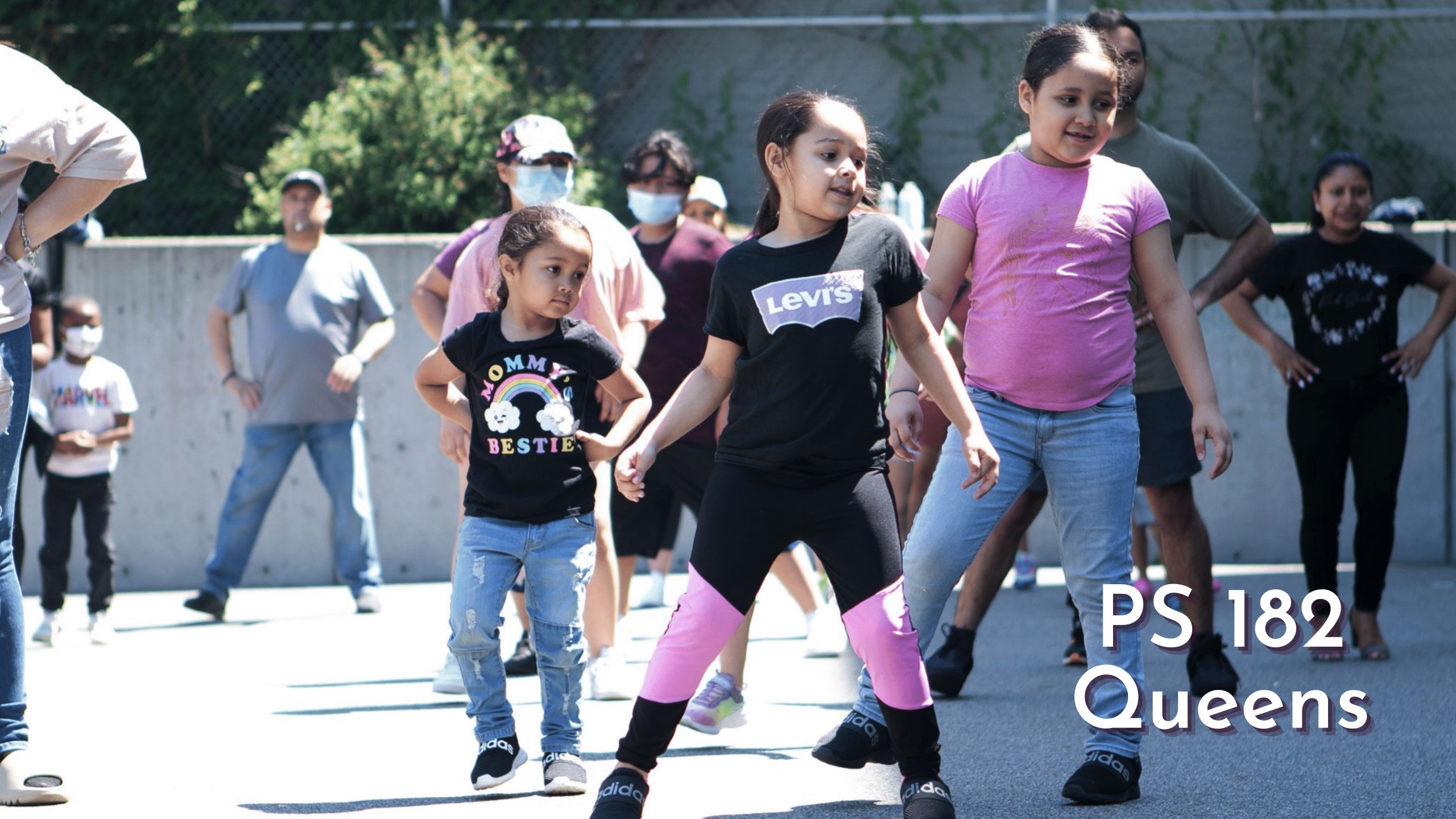 School Mission
: 
"PS 182 is dedicated to nurturing minds and hearts. We are nurturing minds and hearts of children in order to open endless doors of opportunity for them. We are preparing our children to make positive impacts on the worlds they enter, now and throughout their lives."
 

School Website
Arts Partner Since 2019. 
Grades K-5, 633 students; 56% Hispanic, 12% Black, 28% Asian, 1% White; 38% English Language Learners; 94% Economically Disadvantaged; 17
% Special Education.
(2022-2023)
Amanda Selwyn Dance Theatre Professional Performance and Lecture Demonstration
Video
(2022-2023) Family Dance Carnival: Dance Around the World Grades: K-5 | Teaching Artist: Andrea Andresakis, Emily Schwartz, Bailey Randolph, Jojo Rannazzisi Photos
(2022-2023) Program Title (14 class groups, 350 students; 8 sessions) Grades: K-2 | Teaching Artists:Makayla Monet, Nayanika Vyas Photos
(2021-2022) Dance Around the World (1 class group, 25 students; 1 session) Grades: K-5 Teaching Artists: Janet Cesarotti, Rohan Bhargava, Luisa Righeto, Zay Harold, Minseon Kim Jeun, Manuela "Manni" Sanchez Photos Video
(2021-2022) Moving Stories; Dance Makes Me Feel (10 class groups, 250 student; 12 sessions) Grades: K-1 Teaching Artists: Julia Armour, Maggie Fischer, Jessica Saul Video
(2021-2022) Born to Create; I Got Rhythm!; Dance and Its Role in Our Lives (6 class groups, 150 students; 72 sessions) Grades: K-5 | Teaching Artists: Hannah DeFranzo and Isaac Kerr
(2021-2022) Born to Be Me! (5 class groups, 125 students; 50 sessions) Grades: 1-3 | Teaching Artist: Julia Armour Smith Video
(2021-2022) PS 182Q and Child Center of NY After-School Dance Program  (2-class groups, 50-students) Grades: 1-5 Teaching Artists: Hannah De Franzo, Issac Kerr
(2021-2022) Pop-Up Dance Performance Program  (10 class groups, 16 sessions) Grades: K-1 Teaching Artists: Maggie Fischer, Julia Armour