Arts Partner Since 2013
In the 2018-2019 were excited to resume our partner with PS 323K this year with a dynamic 10-week dance residency that explores the dance genres, capoeira, creative movement, musical theater/jazz.
School Population Demographics: K-8, 407 students; 79% Black, 20% Hispanic, 1% Asian ; 3% ELL; 86% economically disadvantaged; 20% special education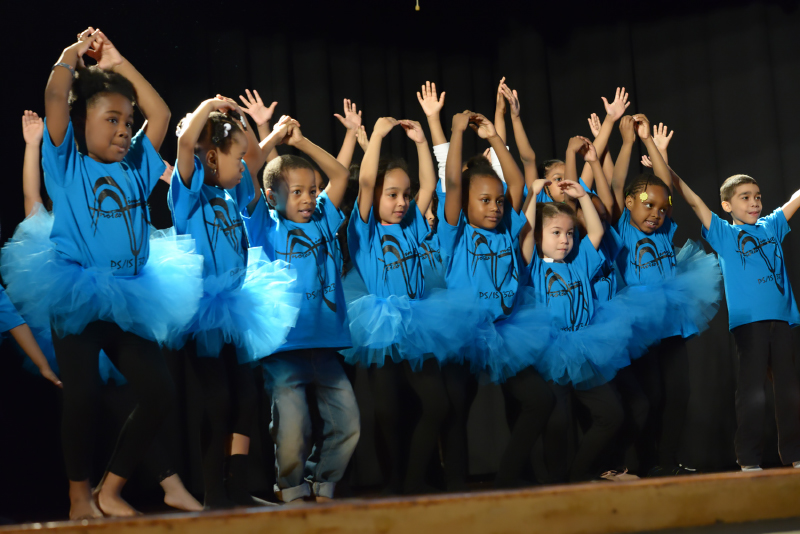 Click to watch PS/IS 323 Principal, Linda Harris, speak about the value of dance in school!
Tumbling and Fun! (Winter 2019) 2nd Grade (4-class groups; 10-sessions) Teaching Artists: Dot Armstrong, Christianne Giuamme Thomas-Welsh Huggins, Jessica Saul
During the 10-week residency, students channeled their energy and learn more about dance through movements from Capoeira, Modern/Contemporary, and House Dance. Dance classes enabled the students develop a safe, positive, and empowered relationship to their own bodies and the bodies of their classmates. Students were able to navigate space, time/tempo, shape, movement quality, levels, isolation of body parts, and collaboration in a creative way.
---
Musical Theater (Winter 2019) 1st Grade (6-class groups; 19-sessions) Teaching Artist: Jessica Saul
During this residency students learned to use their own bodies as a form of expression, chronicle the history of dance, and compare the dance they have personal knowledge/experience of with dances they have never seen/experienced.  By the end of the residency students had comprehension on how the dance from "before" shapes the dance of "now" and the "future.
"Learning to dance ballet was fun and exciting!"— student
Ballet, Tap, Jazz & Ballroom Dance Residency (Winter/Spring 2015) 
1st-5th Grade (135 students, 9-class groups; 10-sessions) Teaching Artists: Montana Sholars, AJ Sharp, Christina Zabas
Ballet, Tap, and Jazz Residency (Winter 2014)
2nd Grade (75-students, 3-class groups; 10-sessions) Teaching Artists: AJ Sharp and Sari Nordman